Daikin Commercial Systems
Daikin is known as a world leader in the provision of the most advanced and efficient air-conditioning solutions for commercial and industrial use. With their extensive research and creation of environmentally friendly equipment, they have revolutionized the way in which business owners look at air-conditioning for their buildings world-wide, offering complete comfort for your business irrespective of the age, shape or size of your building.

The Daikin name is synonymous with the most cost effective and energy efficient air-conditioning systems world-wide, offering you value for money, peace of mind and the ultimate in comfort.
Daikin VRV systems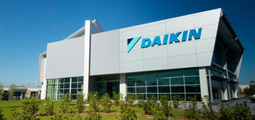 The Daikin VRV systems distribute refrigerant as opposed to water from an outdoor unit that services multiple indoor units. With individual area/user controls and variable speed inverter compressors, Daikin's VRV systems only use the specific energy required to provide the selected cooling for each individual indoor unit, guaranteeing substantial energy savings
Learn More
Air Cooled Systems
VRV Heat Pump (RXYQ):
Offering the latest technology for air-conditioning solutions, this system is engineered for VRV in large buildings. Utilizing the Daikin Inverter compressor ensures optimal levels of performance. This system generates power for up to 30 tons from a single source, providing for up to 62 indoor units and offering various options for ventilation and individual controls. This is a conveniently flexible system with a large capacity that runs at a minimal sound level. There is an in built self diagnosis function and information memory storage to ensure your ease of use. - Learn More
---
Water Cooled Systems
Water Cooled VRV (RWEYQ):
The VRV Water Series provides an energy efficient option for large buildings, giving premium comfort to businesses such as hotels, hospitals and large commercial offices. With a compact, light weight design this system can fit easily into elevators making it convenient and simple to install anywhere in the building. The VRV systems guarantee minimal operation costs as each zone can be controlled individually including complete shut-down in areas that do not require cooling at specific times. This system permits extensive piping which allows multiple areas to be cooled by one circuit. - Learn More
---
Click here to find out more from our team of experts who will be happy to advise you on how this leading, technologically advanced brand in air-conditioning equipment can benefit your business, as it has for thousands of businesses world-wide.